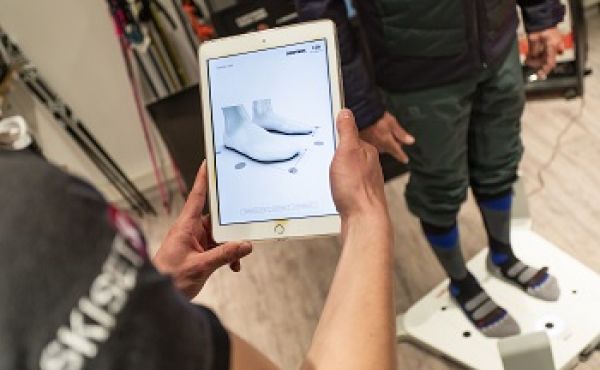 3D Scanner by SKISET – Skiset's digital revolution
We have placed digital at the core of our global strategy. We have seized new technologies as an opportunity to reinvent the ski rental process and improve the quality of our service. Making 3D feet imaging accessible in DEEP SNOW TIGNES shop highlights our perpetual willingness to enhance in-store customer experience.
Foot comfort for all : if performance calls for precision, pleasure requires comfort – and your feet should not be left out! In order to improve your foot comfort, we have opted for a cutting-edge technology: a scanner that generates a 3D image of your feet. Since feet are not solely defined by size, the scan analyses other key major indicators (length, width, volume and arch) in 5 seconds, tops!
Ground-breaking technology : it matches you with ski shoes that are most adapted to your foot morphology. Although our ski experts have always paid special attention to comfort when selecting your ski shoes, 3D Scanner by SKISET is yet another additional token of quality. Not only will your feet will thank us but our teams will also serve you better and faster : no more errors, no more sore feet… 3D Scanner by SKISET will improve everyone's life on the slopes!
Time-saving innovation : want to do your feet a favor and skip the waiting line? Choose 3D Scanner by SKISET.
WORKSHOP
The store is equipped with a repair, preparation and maintenance for your skis or snowboard. Hire equipment is reviewed and maintained after each return.
Take care of your personal equipment guarantees a good practice and its use over time.
You can leave your own material after skiing and you collect it the next morning at 8:30 AM.
DEEP SNOW TIGNES is at your disposal for the maintenance of your equipment:
Handmade Waxing: warm, for a perfect skiing.
Sharpening: precise and personalized.
Repair: true "surgeons" of skis, our technicians will find the best solutions for your problems of equipment.
Crédit photos @Nico Schlosser
Book online and save up 50% off and more throughout the year on your ski or snowboard hire in TIGNES VAL CLARET.